If you're looking to sell your home, captivating photos can be a game-changer. In today's real estate market, online listings serve as the initial connection with potential buyers. Visually appealing images have the power to capture attention and ignite interest. At Coastal Community Real Estate Group (CCREG), we understand the significance of remarkable photography.
Prior to listing your home as active, we will arrange for a professional to conduct measurements and engage a skilled photographer to capture high-quality images of your property. To help streamline the process and make your listing stand out, here are some essential tips to prepare your property for those pivotal photos.
Interior Preparation
From the kitchen to the bathroom, every room in your house is an important selling point. Thus, it's essential to stage these areas that will appeal to buyers.
Turn on all lights throughout the house
Replace any burnt out bulbs
Open all blinds and curtains
Hide personal items when possible
Clear everything from kitchen countertops
Clear appliance surfaces (magnets, etc.)
Clear nightstands, dressers, and coffee tables
Remove any pet items
Close all toilet lids
Clear off all bathroom vanities
Remove personal products from shower
Close shower curtains
Make all beds
Remove unnecessary items and decorations
Close closet doors
Turn off any ceiling fans, TVs, and computer screens
By following these interior tips and applying them throughout your home, you'll enhance the overall appeal and present each room in its best possible state. Thus making a positive impression on potential buyers.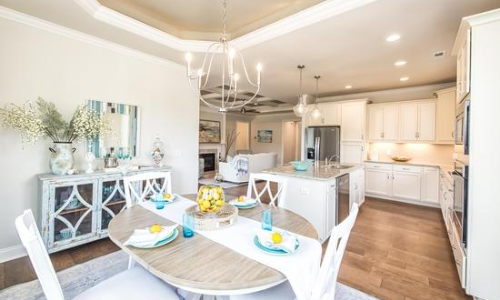 Exterior Preparation
Buyers love to imagine themselves enjoying the outdoors of their future home. To help them visualize the possibilities, here are some important steps that can create an enticing outdoor experience.
Tidy up the yard and landscaping, removing any fallen leaves or debris to enhance curb appeal.
Sweep all porches, patios, and decks to create a neat and welcoming outdoor space.
Remove cars from the driveway or front of the house to provide unobstructed views.
Clean off any outdoor furniture, ensuring it is in good condition.
Open patio umbrellas to showcase outdoor living areas.
Now that everything has been prepared, let us handle the rest!
Listing with Coastal Community Real Estate Group
Coastal Community Real Estate Group is a dedicated team of professionals specializing in coastal properties. With a deep understanding of the unique allure and market dynamics of coastal real estate, we are committed to delivering exceptional service and results to our clients. We combine our expertise in photography, staging, and marketing strategies to showcase coastal properties in their best light. Our goal is to create a seamless and stress-free experience for both sellers and buyers, guiding them through every step of the process with personalized attention and industry knowledge. CCREG is here to provide the expertise and support you need to achieve your goals in the coastal real estate market.
So, let us guide your home through the life of photographs. Trust in CCREG to expertly showcase your coastal property, capturing the essence of the Coastal Carolina lifestyle and attracting potential buyers who want to live in this captivating paradise. Together, we'll make your coastal dreams a reality.
Give us a call at 833-939-3814 or make an appointment online.