Your home has been your sanctuary, the canvas on which some of your best memories are painted. So it's natural that the excitement of moving onto the next adventure may also come with some heartbreak. But when it comes to selling your house, you want your home to put its best foot (or beam?) forward. So potential buyers can see just how special your home is, and begin to imagine all of their dreams playing out there too.
By following these key strategies, you can list your home with confidence, helping you attract potential buyers and secure the best possible outcome. And of course, with over thirty years experience in marketing and sales in Southeastern North Carolina, the Coastal Community Real Estate Group (CCREG) will be along with you every step of the way.
1. Prepare for Inspection: Make Improvements
Making necessary improvements to the property will not only impress potential buyers and present your home in its best light during inspections, but may even boost its value. Here are a few areas to focus on:
Curb Appeal: Ensure your home's exterior is well-maintained and inviting. Fresh paint, a manicured lawn, and a well-maintained driveway can make a significant impact.
Repairs and Maintenance: Fix any noticeable issues such as leaky faucets, squeaky doors, or damaged tiles. Addressing these small repairs demonstrates that your home is well-cared-for.
Kitchen and Bathrooms: These rooms are often the focal points for buyers. Consider updating fixtures, adding a fresh coat of paint, or replacing outdated hardware to create a modern and appealing space.
2. Prepare for Showings: Stage
Staging is an effective way to showcase your home's potential and create a lasting impression on prospective buyers. Here's how to stage your home to make it irresistibly appealing:
Declutter and Depersonalize: Remove excess furniture and personal items to create an open and spacious feel. This allows potential buyers to envision themselves living in the space.
Maximize Natural Light: Open curtains, clean windows, and strategically place mirrors to reflect light and create an airy atmosphere.
Highlight Key Features: Accentuate the best aspects of your home, such as a fireplace or stunning view, by arranging furniture and decor to draw attention to these features.
CCREG can provide you with expert staging advice to optimize your home's visual appeal, ensuring it stands out among the competition.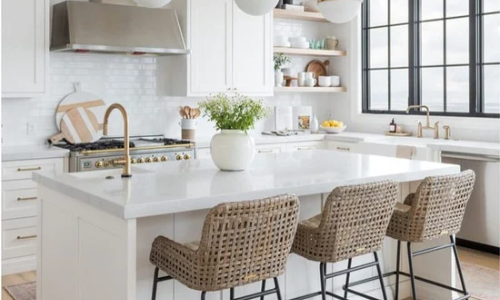 3. Develop a Marketing Strategy: Work with CCREG!
Partnering with CCREG means you receive professional guidance throughout the listing and selling process. Here's what CCREG offers to make selling your home a breeze.
Appropriate Pricing: CCREG's experienced agents will conduct a comprehensive market analysis to determine the optimal listing price for your home. This ensures that your property is priced competitively and attracts serious buyers.
Extensive Marketing: CCREG offers local, regional and national marketing of your properties with our full service, in-house marketing and events team. From professional photography and virtual tours to social media promotion and open houses. CCREG's approach exposes your property to a wide audience, increasing its visibility and chances of a timely sale.
Experts with your Best Interest in Mind: CCREG's skilled agents will work on your behalf to get your home sold to the right buyer at the right price.
By listing your home with CCREG, you can confidently navigate the selling process, knowing that you have a dedicated team of professionals working to achieve your goals.
Give us a call at 833-767-1745 for more information about selling your home with CCREG or make an appointment online.