What's one of the best parts of living in Southeastern North Carolina? It's that our amazing weather lets you enjoy outdoor living year round. Which is why Coastal Community Real Estate Group is here to help you find the perfect backyard paradise to enjoy everything from basking in the coastal breeze to scouting constellations on starlit evenings.
And if this spring has you eyeing a new stone fireplace or dreaming about your very own herb garden, the good news is not only do outdoor projects spark joy today, but they are a great way to add value to your home in the future (and we've got the stats to prove it).
Outdoor Lighting and Landscape
Imagine sipping cocktails with friends on a cool summer evening. As a coastal breeze wafts the lovely scent of flowers your way. No, this isn't some sort of island escape, this is your home every night with a dash of professional landscaping and a cascade of outdoor lighting.
And perfectly manicured flower beds don't just bring you inner peace today. According to a study by the national associations of realtors (NAR) and landscape professionals (NALP), you can assume that any money that you put into landscaping can be added right onto the value of your home–a 100 to 104% return on investment.
Not to mention that outdoor lighting–turning your backyard into the most romantic venue in town– has been shown to be the outdoor project that brings homeowners the most joy (a 10/10 on the joy scale that is). Add a cozy firepit and you'll be at the height of relaxation year round.
Outdoor Kitchen
From barbecues to candlelit dinners, an outdoor kitchen transforms a backyard into a (culinary) haven. We're talking elegant masonry, a stainless steel built-in grill, pizza oven (because any other way just doesn't taste right), and somewhere to store the cold-ones. Just snip a tower of potted herbs directly onto your grilled protein of choice and turn up the flame.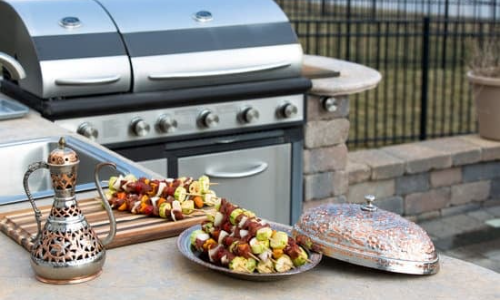 Mouth watering already? The great news for homeowners is that like landscaping, outdoor kitchens not only add a valuable upgrade to your home, but just imagine how much enjoyment you'll get from them!
Repair and Refresh Exterior
Between your new outdoor kitchen and lush landscaping, you'll definitely be spending a lot of time getting familiar with your home exterior. And let's just say, a well-loved home doesn't have to look well-loved. Sprucing up your exterior will surely make your home shine for you. It's also an easy way to add instant curb appeal.
Quick exterior refreshes are all outdoor projects that can rejuvenate your home's exterior. For example– new siding, replacing your front and garage doors. Or even an accent of stone veneer to frame the entryway to your home.
Give us a call at 855-902-9575 to learn more about finding your own outdoor oasis or make an appointment online.