If you've been dreaming about living on the coast, you're bound to be excited about starting the buying process. You're imagining yourself meandering down a Carolina beach, waves lapping at the shore and the salt-sea air on your face. You're picturing what it would be like to wake up to the picturesque woodlands or the spectacular Cape Fear views. You know you're so close to having all that and more. 
Then, you start looking at the complicated web of real estate listings or master-planned communities (MPCs). How can anyone make heads or tails of all that information? If this sounds familiar, you're not alone. A lot of folks are daunted by the sheer volume of options out there along the Southeastern Carolina coast. Fortunately, there are professionals who are trained and dedicated to working with potential buyers like yourself. MPC experts know everything about the business of buying in this region. Here are all the ways they can make the buying process easier for you.
Reading the Fine Print for You
Not all master-planned communities are created equal. All MPCs have their own particulars; certain amenities, access to different activities, and varying levels of commitment to their residents' comfort. When you're working with an expert of planned communities, like the team of pros at the Coastal Community Real Estate Group (CCREG), it becomes a breeze. You need a guide who will take the time to get to know you and your needs — and your wants, too! A true expert is much more than a real estate agent or broker with an MLS listing. This is someone who will read the fine print to ensure you're getting exactly the home you always dreamed of having.
Cutting Through the Noise
Perhaps you're in the other position — you're already living in a master-planned community and are looking to sell. Here, as well, an MPC expert will make everything easier. Selling a house is hard! Who wants to deal with staging, photographing, and ensuring you're listing the property to make it appeal to a perfect buyer? All of that, plus finding those ideal homebuyers, is in the purview of an expert in the master-planned community real estate domain. You won't have to handle any of it. Plus, you can be sure that anyone perusing your property is serious about buying. No dealing with wishy-washy window shoppers who are wasting your time. A smart seller will work with someone who knows the ropes.
Regional Expertise Goes a Long Way
When it comes to buying and selling on the Southeastern Carolina coast, you want someone who understands the area. Hands down, the team most dedicated to regional real estate is the CCREG team. These are folks who live here, raise their families here, and are devoted to helping new residents feel at home the way they do. If you want to buy or sell in Coastal Carolina, work with locals whose love for the area shines through. No one will be better suited to help you navigate the details of the NC real estate process the way a North Carolina native can.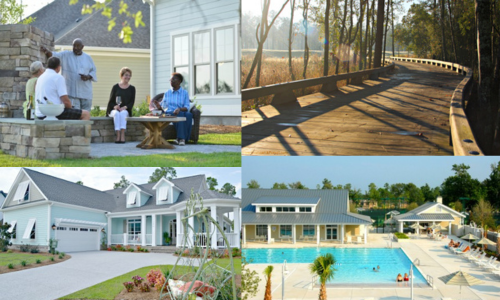 Whether you're buying or selling on the Carolina coast, our team would love to be your guide in the process. Call 833-767-1745 to hear about available properties and learn more about the area.