Autumn in the greater Cape Fear area is a cherished season amongst many living in coastal Carolina. With less crowds and "off-season" rates, locals can still enjoy going to the beach while the air and water is warm. We affectionately dub this period "local's summer" due to its mild temperatures, stunning sunsets, and a plethora of events to enjoy outdoors.
With the perfect setting this region offers during the fall, there are plenty of outdoor events for you and your loved ones to enjoy. Here are a few events our team is excited for in October.
When: October 5th – 7th
Where: Dutchmen Creek Park, Southport NC
Participant Registration Needed
Viewing Open to the Public
Fall is a great time to cast your line on the coastal waters. Happening now, this multi-day event is fun for the family as nearly 400 boats set off to bring in an impressive catch. This tournament is now in its 45th year, making it a local annual favorite. This event is a great way to discover how spectacular fishing in the fall is in the greater Cape Fear region!
When: October 7th – 8th
Where: Historic Downtown Wilmington
Open to the Public
Started by a local group in 1979, Riverfest is a cultural celebration of downtown Wilmington and the Cape Fear River. Nowadays, this two-day event draws in tens of thousands of people! There will be something for everyone, especially if you're looking to enjoy this weekend with young kids.
Riverfest will feature craft vendors, concession stands, a kid's play area, multiple entertainment options, and more! Some activities we look forward to during riverfest are the classic car show and Saturday night fireworks.
Beer Festivals
There will be two notable festivals revolving around brews and pours this October. If you're an avid fan of beer or wine, Fall is the perfect season to enjoy both amongst the live oaks and coastal breeze.
Voracious & Rare Beer Festival
When: October 27th at 6:00 PM – 9:00 PM
Where: Downtown Wilmington
Tickets Needed
With dozens of breweries and eateries participating, there will be plenty of great brews and eats to enjoy right in the heart of downtown Wilmington. Enjoy limited release beers and live music for this precursor event to the Carousel Beer & Wine Festival.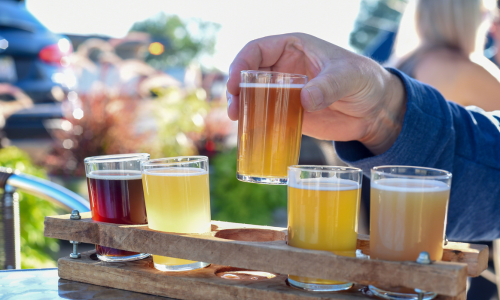 Carousel Center Beer & Wine Festival
When: October 28th
Where: Like Oak Pavilion at Riverfront Park
Tickets Needed
One of the most anticipated events for beer and wine, you won't want to miss this one. The Carousel Beer & Wine Festival will feature more than 100 craft breweries and wineries from the Cape Fear Area and beyond. Additionally, by attending this event you'll be supporting a good cause. Proceeds from this festival go to the Carousel Child Advocacy Center so they can continue to help those in need in our area.
Exciting Times in Coastal Carolina
The fall festivities continue on in November. The Cape Fear Kite Festival is one our team is particularly excited for! Stay up to date on what's happening in the greater Cape Fear region through our website and social pages. Our team of coastal experts are always sharing local favorites and exciting events in the area.
We don't need to tell you how amazing Autumn is in the greater Cape Fear area. Come and see it for yourself! Let us help you find your dream lifestyle here in coastal Carolina. Give us a call at, 833-767-1745.