It's All About Location
Real estate is more than the physical purchase of land. Real estate also places great emphasis on the significance of location. A location determines many important factors when deciding on a dream home, such as taxes, safety, medical services, and more. Our Area Guide is an easy way for you to learn about the local area and its community businesses and provincial luxuries.
It All Begins by Exploring Your Options
As your real estate experts in coastal Carolina, Coastal Community Real Estate Group has plenty of resources to help you make a purchasing or listing decision. One of our most popular resources is our Area Guide. In this handy collection of details, you can learn about the different towns, cities, and locales that Southeastern North Carolina has to offer you. Our team is passionate about the greater Wilmington area, it's home for us and we know firsthand how it pays to have a deeper understanding of the place you call home.
Our Area Guide
The purpose of our area guide is to give you a glimpse of what's like to live a coastal lifestyle BEFORE you make the journey here. If you've been interested in exploring the area but are unsure of where to start, our Area Guide can help create your staging ground.
Our Area Guide covers the following locations:
Southport
Local Beaches
Leland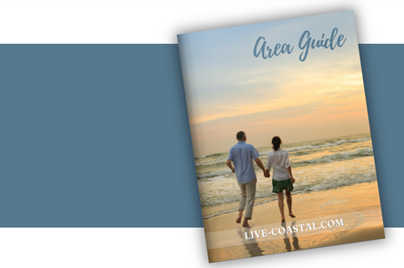 Photo Attributed to live-coastal.com
Why Use an Area Guide?
Why are Area Guides so important when helping aspiring homeowners along in the real estate process? It helps to consolidate helpful information about landmarks, local points of interest, and community details all in one easily accessible source. You can instantly learn about a chosen community, the surrounding area, and potential homes before making your decision to travel for a visit. When the time comes to see your dream community in person, you can think of Coastal Community Real Estate Group's area guide as your anchor to keep you grounded throughout the touring process.
Learn More About Coastal Carolina Today!
Our team members are always enthusiastic to introduce new visitors to coastal Carolina and be their guide as they explore the area for homes we pride ourselves on getting you the resources you need throughout your home selling or buying process. Looking to see for yourself? Obtaining one is easy when you sign up on our website. Or you can contact our team for more information, 833.767.1745. Your coastal forever home awaits!