North Carolina's coastal region is a treasure trove of natural beauty, vibrant communities, and a sought-after real estate market. Dreaming of a coastal lifestyle? The collaboration between Coastal Community Real Estate Group (CCREG) and Premier Homes represents an exciting opportunity to realize those dreams. Together, these industry leaders are committed to building exceptional residences that embody the essence of coastal living in North Carolina. With a long history of success, they are known for their commitment to quality and customer service.
Crafting High-Tech, Low-Maintenance, Award-Winning Coastal Dream Homes
Premier Homes is a leading builder with a stellar reputation for their commitment to quality, craftsmanship, and innovative design. Since 1985, they have built thousands of homes in over 40 communities. Proving themselves to be a prominent force in the region, their expertise lies in crafting dream homes that blend functionality, aesthetics, and the unique charm of coastal living. With unwavering attention to detail, they construct homes that reflect the beauty and tranquility of Coastal Carolina.
In addition, when it comes to advancing in-home technology, Premier Homes has remained at the forefront. Their commitment to providing homes that require minimal upkeep and maintenance is something to commend. Catering to the modern needs of homeowners, they deliver floorplans that prioritize smart home technology and low-maintenance features.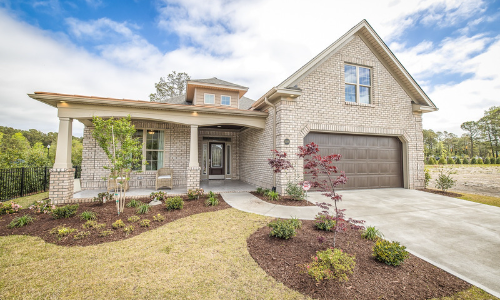 Premier Homes recently received esteemed recognition at the highly acclaimed 2023 Parade of Homes. The Parade of Homes is a prestigious event that showcases exceptional properties and celebrates the finest craftsmanship in the industry. Their commitment to excellence and innovation has been acknowledged with a notable gold award for their Beach Boca II. Additionally, this floorplan was also awarded a special feature award for coffered ceilings! This achievement is a testament to their dedication and ability to create homes that surpass expectations.
The Power of Partnership
The partnership between CCREG and Premier Homes brings together their collective strengths, expertise, and shared passion for coastal living. By joining forces, they provide homebuyers with a seamless and comprehensive experience from property search to the construction of their dream homes! This collaboration allows clients to benefit from the deep market knowledge of CCREG while combining Premier Homes' renowned craftsmanship and design capabilities.
Opportunities with Premier Homes
With Premier Homes, you can find the perfect home that fits your needs and budget. Furthermore, they use only the highest-quality materials and construction techniques. So you can be confident that your new home will be built to last. Suppose you're interested in experiencing their commitment to excellence. In that case, look no further than The Home Place of Southport, which will consist of 52 Villas and Duplex Garden Homes each featuring the Beach Boca Floorplan built by Premiere Homes. With two models currently open daily, there are still plenty of opportunities to find a new home in this community.
If you're looking for a new home in North Carolina, CCREG has the experience, expertise, and commitment to quality that you're looking for. CCREG will work with you every step of the way to ensure that your homebuying experience is smooth and stress-free.
Contact Coastal Community Real Estate Group at 833-939-3814 today to begin your journey to finding the perfect coastal home!