If you've already done some research into master-planned communities, you're probably familiar with the main benefits. Naturally, the amenities, convenience, and well-designed homes are all great reasons why anyone would choose to live in one. Beyond these advantages, there are often qualities overlooked that make these communities truly exceptional. A tremendous amount of effort and thoughtful planning goes into their development. All this work results in a purposefully convenient and enriching lifestyle for residents.
If you're curious about what else these communities have to offer, you're in luck. Our team at Coastal Community Real Estate Group is excited to shed some light on this topic. Here are three underrated benefits of master-planned communities.
1. Active Management
Any award-winning master-planned community will also have an amazing team behind it. The environment and amenities must be well-kept and up-to-date. That's why Homeowner's Associations also play a crucial role in maintaining the overall vision and organization of the community.
The management of master-planned communities goes beyond just maintaining facilities. This also extends to cultivating a vibrant social lifestyle for residents! A wide selection of resident-sponsored clubs and community events await you. Providing a diverse range of options for engagement and enjoyment with your neighbors!
2. Convenient Location
One of the main benefits of living in a master-planned community is the convenient lifestyle it offers. Amenities and home design are often brought up the most in this regard. Residents can also enjoy the added convenience of having numerous local businesses and services near their homes. And with many master-planned communities catering to 55+ active living adults (such as The Home Place of Southport), healthcare facilities are just a short drive away.
Some communities even have a network of businesses within the neighborhood. The Villages at Brunswick Forest is a town center made up of numerous shops, restaurants, medical offices, and other services. All of which Brunswick Forest residents can enjoy without having to ever leave the community.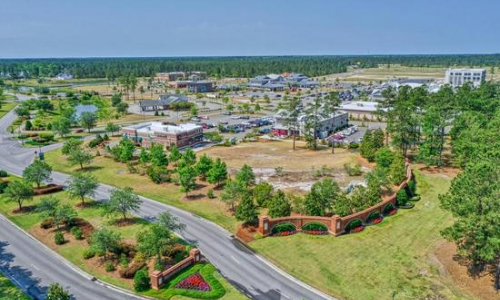 3. Thoughtful Design
This underrated benefit often goes unnoticed until you book an in-person tour. The physical layout of master-planned communities is designed to be mindful of the surrounding environment. This means using natural spaces to its advantage.
Let's take Brunswick Forest as an example. Nestled within 4,500+ acres of pristine nature, this award-winning community offers a truly immersive and expansive natural environment. By design, residents can easily live an active lifestyle while admiring the ecosystem around them. With a network of more than 100 miles of walking and biking trails, it is the most captivating trail system in the region.
Masters in Living the Best Life
Altogether, master-planned communities offer an abundance of options that enhance the quality of life for their residents. Besides the multitude of benefits listed here, you should also know how to choose the right master-planned community.
Looking to live in a townhome, coastal cottage, or something West Indies inspired? Each community offers a different environment and architectural style for you to consider. Some communities also offer three different ways to buy: move-in ready, homesites, or customizable packages. Talk to us about what properties are available and what works for you. Our team has over 30 years of experience specializing in the region's master-planned communities. We've helped countless people find their dream homes and lifestyle. Give us a call at 833-767-1745 or make an appointment online.