It is a truth universally acknowledged, that a person in possession of a coastal home must be in want of coastal décor. Or at least that's the case if you're like me and love interior design.
But, before you grab ten "life's a beach" signs and a dolphin portrait, let's pump the brakes just a little and talk about how to imbue your home with the latest trends in modern coastal design. Don't make me wrestle you for that striped anchor.
1. Keep it Simple
In contemporary coastal design, the first rule of thumb is the simpler the better. Why? Well, think about a morning walk on the coast. It's all about the simple pleasures: the bright light, the soft colors of sand and dune grass, the open view of the ocean.
New coastal design uses minimalism to achieve this feeling of coastal relaxation and emphasizes our stunning environment over everything else. And minimalism certainly doesn't mean harsh. Coastal living embraces comfort and so should your home!
Skip the seashell prints and lean into neutral walls (More light! More light!) and simple décor with natural textures. A geometric rattan chandelier evoking dune grass at sunset: please and thank you. Opal beige sectional by the fire, don't mind if I do.
2. Natural is Best
To that point–modern coastal design is all about incorporating natural elements (and keeps your minimalist home welcoming). Achieve this look by incorporating rustic furniture, wood with light finishes, accents of woven white rope (a subtle nod to all things nautical), rattan, jute, and taupe.
Remember, it's all about balance. Too much rustic furniture and suddenly we're in a mountain lodge (shiver). It's more about breaking up the moments where your shining white walls get a little too stark with comfortable textures and inviting hues.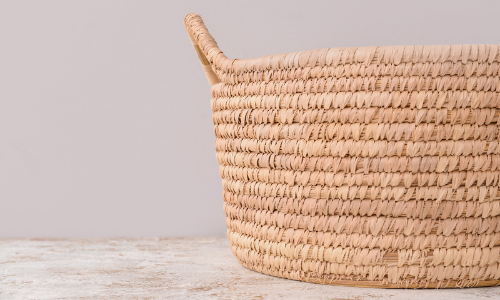 3. Organic Inspiration
Whether it's dunes, waves, or ocean spray, the coast is all about curves and arches. These shapes (once again) soften minimalist architecture and evoke that natural, organic feel. If your home already includes architectural details like arched windows and doorways you are already halfway there.
But you can still bring in organic inspiration with décor. Incorporate larger arched furniture pieces, arched bathroom mirrors, cabinets, and hutches. You can even slip a little curb appeal into your finishing touches–check out arch candlesticks and rounded grass baskets.
Give us a call at 833-767-1745 to find the perfect coastal home to decorate to your heart's content, or make an appointment online.