A Strong Foundation
All homes need to be centered on a strong foundation. A real estate agency is no different. There needs to be a solid base to give your clients the best possible resources. Coastal Community Real Estate Group is a team that has over 30 years of experience in helping others purchase and sell homes in coastal Carolina. We've prided ourselves on providing homeowners with the best tools possible to make their decisions with. To that end, our team is proud to introduce our newest website for Coastal Community Real Estate Group! Welcome to living coastal: our new website.
Welcome to live-coastal.com
Three decades' worth of coastal real estate knowledge is an achievement our team is proud of. But the real trick to having so much information is to find a hub to organize it all. That's what our newest URL, www.live-coastal.com, is all about. The team wanted to consolidate our knowledge into an attractive format that's easy to use. Our newest website is even sleeker and easier to navigate, making browsing for contacts or information seamless for visitors. The focus of our new website is to reliably provide the aspiring homeowner with all the resources they need to make an informed decision regarding purchasing or selling a home. This includes blogs, contact information, images, lending partners, and our insurance partners.
Our Resources
One of the most important resources on our new website is the ability to explore our chosen communities and the areas surrounding them. You will find everything you need at living coastal, our new website. There are options to explore points of interest, such as our pristine beaches, and other crucial area information. From Brunswick Forest to the Home Place of Southport, you will find a substantial number of details regarding amenities, neighborhoods, special features, builders, and architectural themes. Our site will give you the information you're looking for and an easy way to find out more information.
Our Team
You can count on Coastal Community Real Estate Group to guide you in the right direction. The new website has a dedicated page regarding our team of experts. It also includes who we are, our mission, and how we can best help you find your dream home.
Our Partners
Lending and insurance are crucial parts of the home buying and selling processes. Our latest website has all the information you need about our partners there as well. Wells Insurance is a local group that's been helping Carolina homeowners in the greater Wilmington area find peace of mind regarding their assets since the 1920s. Atlantic Bay Mortgage also has a fantastic group of agents ready and willing to help you with any lending needs to make your dream home a reality.
Search Anywhere
In addition to all these helpful resources, you can also use our latest website to instantly search for homes in your neighborhood of choice. This option allows you to search by location, price, square footage, and other important details. You're even able to instantly schedule a tour all with the click of a button!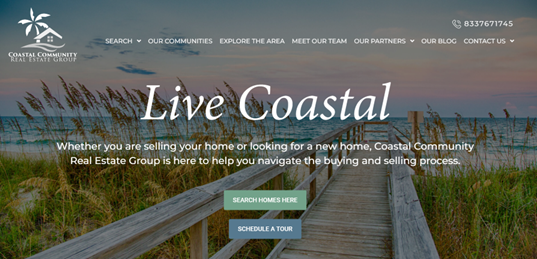 Visit Our New Site
The team here at Coastal Community Real Estate Group is beyond excited to start helping you find the coastal paradise you've always wanted. And the journey begins here on our new website, www.live-coastal.com!