The difference between a house and a home is the loving touch a homeowner brings to their abode. When you first move into a new space, it feels strange. Not quite yours. It's only when you begin to arrange the furniture, hang some pictures, and settle in that the structure becomes your own haven. Sometimes, the process of acclimation can take a while. You never know quite what will perfect the space until you've lived there for a while.
The real estate professionals who work for the Coastal Community Real Estate Group (CCREG) understand this process. In fact, they're so sensitive to the process of homemaking that they've ensured homeowners in their communities, including The Home Place of Southport, can personalize many aspects of their homes. This is just one example of how the CCREG team, and specifically the folks who work with The Home Place of Southport's residents, prioritize the convenience, comfort, and customization of residents.
Personalized Options
So, how exactly can you personalize your home when you're purchasing property at The Home Place of Southport? Lots of ways! The models crafted for residents here are all designed by the award-winning builders of Premier Homes, an experienced firm that has been building beloved homes since 1985. Having built over 3,000 homes for happy homeowners, Premier Homes knows a thing or two about personalization. For example, the Beach Boca is a pretty fabulous design on its own, with three bedrooms and a gorgeous light-filled living space. But if you want a little more space, you can add a second story to the home with ease.
There are plenty of smaller opportunities to personalize the space, too. In a meeting with designer Joelle Ando, you'll choose paint colors, backsplash tiles, and so much more. Everyone at CCREG and Premier Homes wants to make sure you bring your whole self to the creation of your home.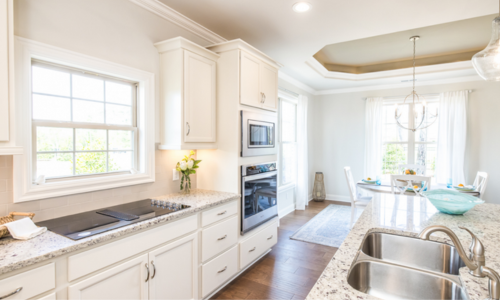 Low-Maintenance For the Win
Once you've moved into your personalized property, you don't want to spend all your time at The Home Place of Southport mowing the lawn and weeding the flower beds! That's why this community is designed in a way to ensure carefree, low-maintenance living for all residents. That way, you can enjoy your days on the Carolina coast without getting bogged down by the chores of everyday upkeep. By crafting homes from durable brickwork, Premier Homes and CCREG are thinking ahead; the material is weather-resistant and holds up superbly in the salty ocean air. You'll also get the pleasure of total lawn care carried out by professional landscapers. Your flowers and hedges will always flourish, and you won't have to do a thing to ensure your lawn is perfectly edged.
Sleek Design and a Personal Touch
Speaking of forward-thinking design, all the home models crafted by Premier Homes are created to last. The Single-Family Villa comes with a two-car garage, three bedrooms, and two baths. There's also the option to add a third bath and bonus room upstairs. It's roomy enough for visits from family or hosting guests. The Garden Home Duplex has all that as well! Both designs include a lanai, the upscale cousin of the patio. The perfect setting to relax on a lazy Carolina afternoon or host friends and family for a special occasion. You can choose everything from the tile in the bathroom to the color of the kitchen cabinets when you chat with Joelle about your preferences, of course. The team at CCREG is dedicated to making sure you feel overjoyed about the prospect of living in your new home.
Don't wait! You, too, can be a homeowner with your very own stunning home on the Carolina coast. The team at CCREG can't wait to help you find the home of your dreams. Call 833-767-1745 to learn more about available properties and learn more about the area.