North Carolina is home to many wonders. The uniquely situated state boasts the best of all terrains — stunning coasts, breathtaking mountain views, and rolling plains. But the landscape is just one reason why many folks from across the United States are moving to the Tarheel State. Newcomers are also drawn to the affordable and exuberant cities and towns, the community-minded country culture, and NC's legendary arts and music scenes.
If you've been considering homes for sale in North Carolina, you may think all the good spots are taken. Not so! There are plenty of new builds going up and exciting existing properties. In fact, there are so many great real estate projects you don't have to search for "land for sale" if you want a perfect North Carolina home. Instead, it's worthwhile to explore the amenities offered by curated communities on the Carolina coast.
Why Southport?
Any real estate agent on the Carolina coast would likely advise their client to look at opportunities in Southport. This small town is right on the coast of the Atlantic Ocean. If you're looking for a scenic place to enjoy a combination of country and coastal living, you really can't beat Southport. Once a year, on July 4th, North Carolinians come together here to celebrate Independence Day with famously special festivities. The rest of the year, this sleepy town is known for its top-notch seafood restaurants, family-friendly attractions, and relaxing atmosphere.
The Coastal Lifestyle — Reimagined
You don't have to be an avid kayaker or a scuba diver to enjoy a coastal lifestyle. Indeed, many folks looking for homes for sale along the North Carolina coast want both activities and relaxation. It's easy to find that sweet spot when moving into the new neighborhoods being built outside Wilmington, near Cape Fear. Active adult communities, like The Home Place, are reimagining what a coastal lifestyle can encompass. By offering stunning properties (complete with low-maintenance living) and activities like golf, pickleball, and water sports, they believe they've created the perfect place to retire.
Find Your Way Home
When choosing a home, there are only two things that truly matter. First, you should have access to everything you need for a healthy and vibrant life. Second, you should love where you live. Finding your way home, then, is as simple as looking at these two factors. Master planned communities offer both amenities and accessibility in spades. Southport, NC may be a small town, but its proximity to Wilmington means residents can easily access premiere medical care, cultural events, and more. As far as loving where you live goes, it's hard to find anywhere as lovely as the picturesque Southport Marina or the town's historic downtown.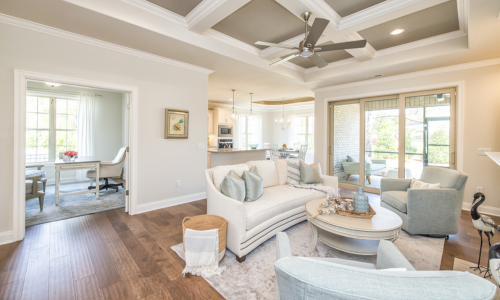 The Home Place was built by an award-winning team of builders with vast experience in land development and construction. The community was designed with active, vivacious adults in mind. Retirement should be a time of enjoyment, whatever that means to you. Whether it's great meals, walking trails, sports, or arts you love, you'll find it here. This community was crafted specifically to provide all these and more.
There are plenty of fantastic opportunities for beautiful homes available in Southport, NC. Contact our team of professionals to learn more about the homes available at The Home Place today.