From miles of pristine beaches to Broadway and the Beach. Or simply basking in the coastal breeze on your front porch. There is so much to enjoy each day in Southeastern, NC. But sometimes our enthusiastic coastal flora (the grass here may love that temperate weather a little too much) and dealing with endless home maintenance tasks can get in the way.
If you're seeking a low-maintenance lifestyle that allows you to spend more time doing what you love, then look no further! The Coastal Community Real Estate Group is excited to introduce you to two Cape Fear communities, The Home Place of Southport and Collingwood Towns. Both perfectly blend comfort, convenience, and hassle-free living. Because the last thing you want to worry about on your morning beach walk is mowing the lawn. 
The Home Place of Southport
The Home Place of Southport is a master planned community nestled between Wilmington and Myrtle Beach. It features attractive brick villas and duplex garden homes equipped with highly desired retirement smart features. With local beaches and a historic downtown just minutes from your front door. The Home Place of Southport is an ideal community to enjoy an active, yet relaxed coastal lifestyle.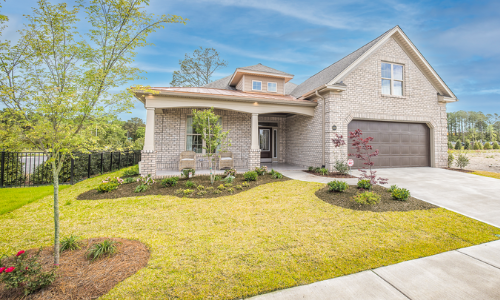 Trade Maintenance for Matinée
With a focus on providing residents with a stress-free lifestyle, the Home Place of Southport takes care of all your lawn maintenance needs. So you enjoy the best of the Cape Fear. And once a year, the HOA arranges for the windows of all the homes to be professionally cleaned. Driveways are also power washed so you can proudly welcome guests to your beautifully maintained property.
In addition to lawn maintenance, Home Place of Southport offers a range of smart home features that make everyday living effortless. From smart thermostats and lighting systems to advanced security features, these homes are equipped with the latest technology to simplify your life. You can control your home's temperature, lighting, and security systems with just a few taps on your smartphone, ensuring comfort and peace of mind at all times.
When it comes to home construction, the brick homes at Home Place of Southport are designed for easy maintenance and longevity. Known for their durability, energy efficiency, and high fire resistance, brick exteriors don't require painting or frequent repairs. And as part of the Homeowners Association (HOA) dues, your home's exterior maintenance is taken care of. Ensuring that any issues that arise are promptly addressed.
Collingwood Towns
A charming townhouse community located within Brunswick Forest's signature neighborhood of Cape Fear National. Collingwood Towns offers spacious floor plans adorned with bright transoms and customized features. Excellent for those who want to downsize without sacrificing luxury. A short walk from the Cape Fear National Clubhouse and the community pickleball courts, Collingwood Towns allows you access to fine dining, fitness, and social activities. 

Ditch Your Lawnmower
One of the biggest advantages of living in either one of these communities is the minimal upkeep required. These homes are designed for a low-maintenance lifestyle with stellar construction and sturdy concrete foundations. So, you can rest assured that your home is built to withstand the test of time. Only requiring fewer repairs and maintenance tasks. 
And with all exterior maintenance included in the HOA, you can enjoy a sparkling home and perfectly manicured landscape without lifting a finger. Say goodbye to your lawnmower, and your entire shed of shovels, edgers, clippers, and leaf blowers for that matter. Goodbye, goodbye forever!
So, what will you do with all that newfound freedom? 

Give us a call at 833-767-1745 for more information about luxurious low-maintenance homes in the Cape Fear. Or make an appointment online.