Are you prepared to make the leap and become a coastal dweller? Get ready to experience the best of all worlds: A friendly tax environment, coastal vibes, and a thriving downtown scene complete with Southern charm. If you're relocating or considering a move to this beautiful region of North Carolina, here's your guide on how to prepare for the salty, sandy, and sun-kissed life!
Lower Taxes, Higher Smiles
Let's get right to the good stuff – lower taxes! One of the perks of living in coastal North Carolina is the favorable tax climate. With one of the lowest income tax rates in the country, you can keep more of your hard-earned money. Additionally, North Carolina stands out as a state where social security income remains untaxed, contributing to a lower overall cost of living than many other states. That means more opportunities for beachfront ice creams, fresh seafood dinners, and fun activities!
Beach Living Bliss
Get ready to trade in your snowshoes for flip-flops! Coastal Carolina enjoys mild year-round temperatures, and the region rarely experiences snowfall. The beaches are the crown jewels of coastal North Carolina. From Wrightsville Beach to Carolina Beach and all the hidden gems in between, you'll find sun-kissed shores waiting for you to kick back and relax. There's no shortage of sandy adventures, from building epic sandcastles to enjoying the soothing sound of the waves.
Coastal living also means getting acquainted with water sports like kayaking, paddleboarding, and surfing. The Cape Fear River and the Atlantic Ocean are your new playgrounds! Grab a paddle, catch a wave, or drop a fishing line – there's no better way to stay active and make new friends.
Embrace Southern Culture
The coastal Carolina region boasts a rich tapestry of Southern culture. Prepare to immerse yourself in local traditions, from delicious barbecue joints to charming historic districts. You'll find plenty of opportunities to experience Southern hospitality, eat delicious Southern food, and enjoy Southern coastal activities like fishing, boating, and going to the beach.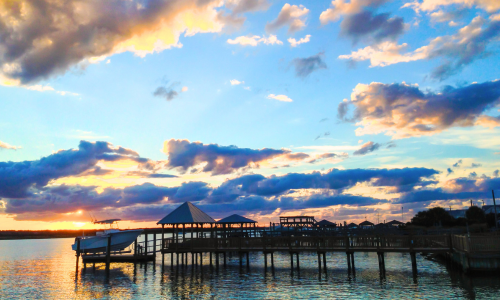 Activities Galore
The Cape Fear region is a treasure trove of activities. Visit the historic USS North Carolina Battleship, take a walk on the scenic Riverwalk, or explore the immersive North Carolina Aquarium. The region also offers fantastic hiking trails, pristine state parks, and nature preserves. Explore the rich ecosystem and wildlife of the Cape Fear River and its tributaries.
Living in coastal Carolina is all about enjoying life, making memories, and embracing the best of the Southern coastal lifestyle. Prepare for sunshine, adventure, and a warm and welcoming community. So pack your flip-flops and grab your sun hat! Give Coastal Community Real Estate Group a call when you're ready to take the coastal leap! Give us a call at: 833-767-1745