"Home" is one of the oldest words in the English language. And forget English, with very few shifts in pronunciation or spelling, the word "home" comes to us from some of the earliest languages on record, nearly 6,000 years ago. Which is why we, at the Coastal Community Real Estate Group, know that finding your home is deeply instinctual.
And with model homes open and staffed seven days a week, we're so excited for you to join us at The Home Place of Southport. From construction to community–we know everything about this special master-planned community is instinctually home.
Tour Our Model Homes
Stepping into the Beach Boca Single Family Villa or the Duplex Garden Home, you'll instantly feel at home in the airy, coastal floor plan. This is where luxury meets low-maintenance relaxation. Throughout the home, you'll find exquisite architectural details like coffer and tray ceilings. As well as beautiful built-ins that add a touch of elegance.
Three spacious bedrooms, bathrooms, and a bonus room on the second floor are perfect to support your family and lifestyle. The master suite, nestled at the rear of the house, offers privacy and tranquility with a sitting area and two walk-in closets, while the spacious living areas are built with an eye to entertainment. The chef's kitchen is a dream come true, complete with granite countertops, Whirlpool appliances, and designer cabinets.
And it's not just Premier Homes' award winning construction that makes life a breeze at the Home Place. All homes are equipped with smart features to assist with daily comfort and security. Plus, lawn care, exterior maintenance, yearly power washing, and even homeowners insurance are included.
Southport, America's Happiest Seaside Town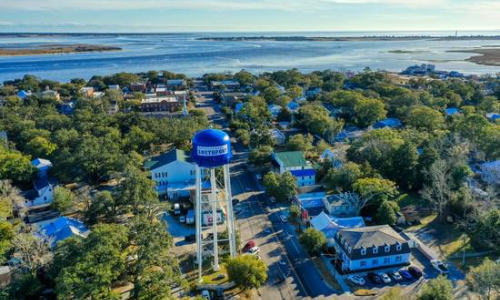 Nestled between Wilmington and Myrtle Beach, Southport's small town warmth will immediately put you at ease. In fact, it's no surprise that Coastal Living called Southport one of the happiest coastal towns in America. Whether you spend the day at one of our two local beaches. Or strolling downtown along the breathtaking waterfront along the Cape Fear River, you won't want to leave.
Known for its local shopping scene, Southport offers art galleries, antiques, and unique shops where you can find the perfect gift or immerse yourself in the local culture. And the historic homes and nautical history that line the waterfront add a touch of charm to the scenery. If you're lucky, you might witness a legendary sunset over the water, painting the sky with vibrant hues.
Active Coastal Lifestyle
If you're someone who enjoys an active coastal lifestyle, Southport is your perfect coastal playground. With access to pristine beaches, waterways, lush parks, and walking trails just a stone's throw from The Home Place. You can believe that Southport is the perfect place to enjoy the beauty of our coastal environment. Whether you're a tennis enthusiast, want to try your hand at pickleball, or love watersports, Southport offers great locations for all. And for fitness, you'll find excellent gyms and clubs catering to everything from golf to CrossFit.
Call us at 833-939-3814 to schedule a tour of the model homes today or make an appointment online.