Escape to Paradise
For those looking to escape to a coastal paradise without any compromises, Brunswick Forest welcomes you home. With eight builders, 12 amenities, a championship golf course, and several amazing neighborhoods, it's no wonder why Brunswick Forest has become one of the leading recommended communities for Coastal Community Real Estate Group.
Humble Beginnings
In the early 2000s, much of Brunswick County was sand and pine. There wasn't much to speak of but plenty of real estate experts saw the incredible potential for the area. Decades later, Brunswick Forest has grown to become a personal paradise for thousands of residents. It's been awarded a top tennis and pickleball community. As well as being named amongst "The Best of the Best" by ideal-LIVING Magazine. A combination of an ideal location, amenities, incredible staff, and a variety of floor plans have helped to make Brunswick Forest a well-lauded community.
Location, Location, Location
Brunswick Forest is all about the location. There's a perfect distance between the towns of Leland, Southport, the city of Wilmington, Wilmington International Airport, and seven different beaches. In addition to this, the community has its very own enclave of shops and restaurants via the Villages Town Center. Residents never have to travel very far. That includes booking a medical appointment, shopping for groceries, bringing friends to dinner, or even traveling out of state. Convenience is the name of the game, and Brunswick Forest always wins out.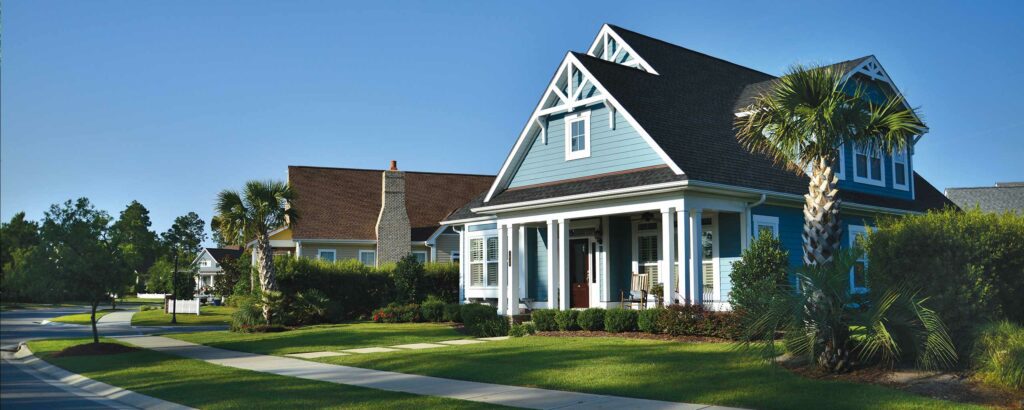 Amenities
All you need to do to see how Brunswick Forest embodies the region's casual lifestyle, is to look at the wide variety of amenities. From swimming in the community's now three saltwater pools, to tennis and kayaking, it's all there. This community has everything someone needs to live the perfect active lifestyle. The community is built to take full advantage of coastal Carolina's year-round mild and sunny weather. This includes Cape Fear National, 18-holes of championship golf, and one of the best courses north of Myrtle Beach.
Builders and Floor Plans
A unique community deserves the best floor plans from the top builders. Brunswick Forest is partnered with industry experts like Atlantic Homes, Bell Custom Homes, Fogleman Associates, Kent Homes, Liberty Homes, Turner-Dunn Construction, Trusst Builder Group, and Legacy Homes by Bill Clark. These homes all have special themes corresponding with different neighborhoods. This includes the West Indies Style of The Lakes or the upcoming golf course exclusivity with The Peninsula at Cape Fear National. All the homes in Brunswick Forest are expertly built, well-equipped with modern furnishings. Perfect for living a comfortable lifestyle near the beach. There's enough variety here to satisfy any aspiring homeowner looking to relocate.
A Team that Can Make Your Dreams Reality
Coastal Community Real Estate Group have been the local experts for everything coastal Carolina for over 30 years. That's a lot of combined knowledge to help you find your exact dream home. Thousands have already called Brunswick Forest their home. Will you be next to join them? Our agents can help make that happen. For more information on Brunswick Forest contact us at 833-767-1745.