A Coastal Paradise
With inland marshes, ribbons of sugar-white sand, and blue Atlantic waters as far as the eye can see, it's no wonder how what started as a small beach town became a thriving center of attention. As the experts on all things coastal, Coastal Community Real Estate Group places the spotlight on Wrightsville Beach.
Humble Beginnings
With roots stretching back to its incorporation in 1899, the town of Wrightsville Beach has become one of the top coastal destinations in Southeastern North Carolina. It's a crown jewel that's helped to make our home famous. Right alongside other well-known destinations like Fort Fisher and Bald Head Island.
But how did Wrightsville Beach come to be, and why do so many fall in love with this incredible location? It's a combination of rich history, great restaurants, friendly folk, and sparkling waterways.
Some History
Originally known as "New Hanover Banks," Wrightsville Beach used to be private property owned by the state of North Carolina. This era of private ownership lasted from 1791 – 1841 and was largely left barren. It was usually only visited by fishermen and hunters. Sailors also frequented these waters. The fledgling barrier island became home to one of the oldest yacht clubs in America. The Carolina Yacht Club is still in operation today. During the American Civil War, the water became patrolled by Confederate Blockade Runners attempting to smuggle in supplies.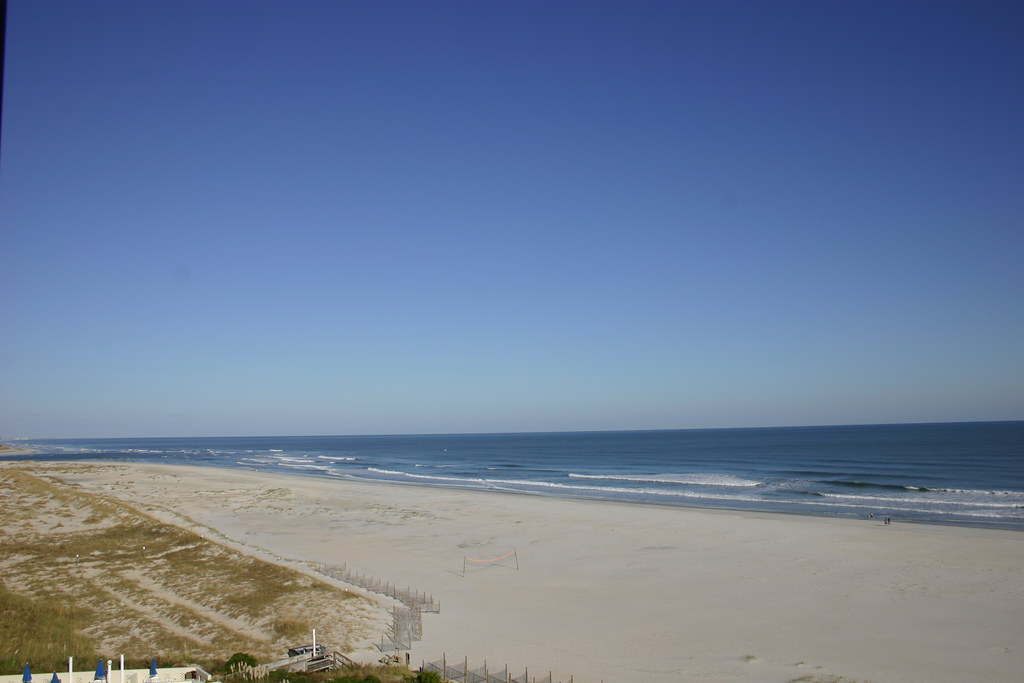 *Image Sourced, mdl70 https://www.flickr.com/photos/8459320@N03/2739939682
But once the war ended, Wrightsville Beach's legacy as we know it today began to take shape. In 1887, the very first rail line connected to today's Harbor Island, and in 1902 it become an electric trolley. From that point onward, locals were able to come and go as they pleased from Wrightsville Beach as a pleasure destination. Over the years that followed, a quaint town had built up around the tracks, including The Lumina, which was a three-floored dance hall that was always bustling. It wasn't until 1935 that a road was built, connecting the mainland of Wilmington to Wrightsville Beach.
Since the early days of oceanside merriment, Wrightsville Beach has always been a famous location for locals. Wrightsville Beach has only grown larger and become more popular with time. Tourists flock by the thousands every year to get a chance to soak up the sun by the Atlantic Ocean. For many, the feeling is enough to relocate permanently.
Growing From the Past
The town of Wrightsville Beach, though much larger and busier than the old days, still captures a bit of that small-town coastal charm that has enamored so many. The island itself is filled with many historic beach cottages and small roads that snake between the dunes. Several points of interest see thousands of visitors annually. Here are a few of them that you may have heard of:
Johnnie Mercer's Fishing Pier
A favored location by tourists and anglers alike. This 1200-foot coastal landmark was rebuilt into the first concrete fishing pier of its type in North Carolina. With a seasonal grill, gift shop, tackle shop, and plenty of spots to drop your line in the water, Johnnie Mercer's has been a Wrightsville Beach icon for decades.
Robert's Market
Providing fresh produce and other groceries to Wrightsville Beach since 1919, Robert's Market is the island community's only grocer as it has been for about a century. From beachwear and ice to its homemade salads, Robert's is known throughout North Carolina as a local favorite. A visit to Wrightsville Beach isn't complete without at least one visit.
The Oceanic
The Oceanic restaurant is one of Wrightsville Beach's most famous places to eat. Located not far from the original location of The Lumina dance hall, The Oceanic offers fresh seafood, great steaks, and unmatched views of the Atlantic from your table. In especially good weather, patrons will often flock to grab an outside seat on the adjoining pier.
Wrightsville Beach, being so close to the water, is the perfect area to dine on fresh seafood. Establishments such as Dockside, Fish House, Bridgetender, and Bluewater Grill are all local hotspots set right on the Intracoastal Waterway. Visitors may even get a chance to watch boats pull up to the dock and grab a table alongside you!
Other points of interest include:
If you ever want to spend a day learning about the unique history of Wrightsville Beach, the local Museum of History will be your best bet! To top it all off, Wrightsville Beach and the surrounding locale are perfect for anyone looking to jog, walk, run, kayak, paddleboard, or take their dog on a leash. You can spend an entire week in Wrightsville Beach and still not see all there is to do!
All these qualities come together to form a truly enchanting experience that will captivate you from start to finish. Wrightsville Beach is well-worth the trip to immerse yourself in the culture of coastal Carolina.