Finding your dream home should be an exciting and alluring experience. And if you have been envisioning your life in coastal Carolina, it's time to turn that vision into a reality. Are concerns about limited inventory holding you back? Allow us to alleviate those fears and guide you towards your perfect home. At Coastal Community Real Estate Group, we know there are plenty of opportunities to live in coastal Carolina. Whether it's resale homes, new developments, or vacation homes, we're confident in our ability to help you discover something you'll absolutely adore. Let's take a look at the number of new listings from May and this year in total.
Opportunities in the Great Cape Fear Area
The greater Cape Fear Area has seen an impressive average of 1,403 new listings added each month this year. This includes New Hanover, Brunswick, and Pender counties. Let's dive into the specifics of May.
In May 2023, there were a total of 1,797 new listings. The total inventory of homes for sale totaled 2,319. Since January 2023, there have been a total of 7,981 new listings in the area.These numbers encompass single-family homes, townhouses and condos.
There's no shortage of inventory on the Carolina Coast. In fact, we'll also share prime opportunities in one of the most sought after master-planned communities in the region.
Opportunities in Brunswick Forest
Brunswick Forest, an award-winning master-planned community offers some of the most diverse real estate opportunities in eastern NC. The outstanding collection of neighborhoods filled with various styles of homes is something to admire.
One upcoming neighborhood, Osprey Landing, is set to have 88 homesites alone. But opportunities can fill up fast for this upcoming neighborhood. So be sure to sign up on the VIP list to reserve your spot!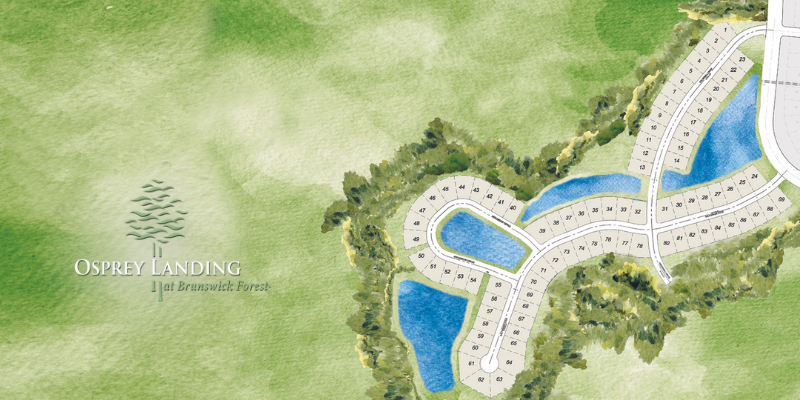 Opportunities in Southport, NC
Another opportunity you don't want to miss is the charming villas and duplexes at The Home Place of Southport. Located in the delightful coastal town of Southport, NC, which is also recognized as "America's Happiest Seaside Town". This charming location is a great option for active retirees! With the low-maintenance lifestyle this community offers, you can easily achieve an active lifestyle without worry.
With its picturesque scenery and vibrant community, Southport offers an exceptional lifestyle for those seeking a fulfilling retirement. The Home Place of Southport currently has two models open to tour daily and plenty of opportunities to call home.
Find Your Dream Home with CCREG
We believe that living on the coast doesn't need to remain a fantasy. Our realty team consists of enthusiastic individuals who are truly passionate about coastal living! Regardless of your goals or budget, our team can assist you in finding your dream home right here in coastal Carolina.
Want to stay up to date on new opportunities in the greater cape fear area? Sign up for listing alerts through our website and stay informed about the latest properties available.
Give us a call at 833-767-1745 about opportunities in Coastal Carolina or make an appointment online.