Ready for dinner with a view? The Cape Fear region is chock-full of delicious beachside restaurants featuring local seafood, southern flavor, and more. And with prime beachside real estate on the Atlantic, Intercoastal, and Cape Fear River, you'll have your work cut out for you to try them all!
Here's some of our favorites at the Coastal Community Real Estate Group. Bon appetite!
Wrightsville
At Poe's Tavern in Wrightsville beach you'll be hungry nevermore. Especially with their delightful selection of Tex-mex and American offerings named after the literary stylings of Edgar Allan Poe. Follow up a plate of Edgar's Tacos with a Tell-Tale burger stacked with applewood bacon, a fried egg, and cheddar cheese. There's also plenty of vegetarian options from veggie burgers to tacos and quesadillas. 
Though if anyone offers you the "Cask of Amontillado" special, it's probably wise to take a raincheck.
Shark Bar and Kitchen's motto is "simple food, done well," and the motto doesn't lie. Their menu favors fresh caught fish, local meats and produce, and southern favorites. While we definitely recommend their seafood options from the raw oyster bar to calabash-style sea baskets, we're not going to lie, they also make a mean burger. The sauce is both legendary and a carefully guarded secret.
Oak island
A meal at the Island Way guarantees beautiful views of the Ocean Crest Fishing Pier paired with perfectly prepared seafood (or steak, their steak is really good). Make sure to check out the raw bar and their catch of the day. The Island Way is also your best bet for a date night. From their white linen tablecloths and mahogany floors to the sparkling waterfront, Island Way is serving up some classic fine-dining ambience.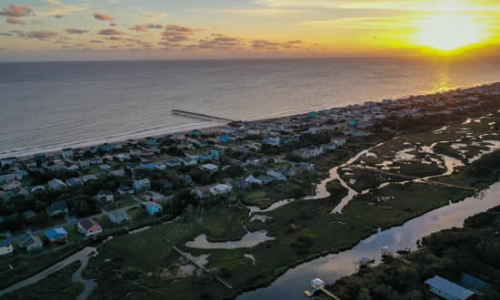 Koko Cabana–whether you are looking to satisfy an eclectic group of eaters or just looking for the best waterfront views in town with your meal, Koko Cabana is the place to go. Do you want fish tacos with your poke bowl? Or fried green tomatoes with Thai chili shrimp? Rest assured you can have it all and it will be amazing. Don't forget to try out the creative cocktails from the Lavender Martini to the Grapefruit Mule featuring locally made vodka. Please and thank you.
Southport
The Frying Pan is, as you might guess from the name, the place to explore low-country style cooking. Enjoy shrimp and grits, pan-fried seafood, and just the most beautiful view of the junction of the Intercoastal and the Cape Fear River. Other fan favorites include the Grouper Po' Boy and unicorn fish (prepared grilled or blackened). And did we mention the daily all you-can-eat crab legs from 4pm until closing? Well, guess we just did!
Oliver's on the Cape Fear is similarly located right where the Cape Fear meets the Intercoastal. Whether you choose to dine on the waterfront terrace or next to the window wall in the air conditioning, Oliver's serves up dramatic beachside views alongside delicious food. 
The cuisine is American-style with a southern twist. A platter of calabash seafood pairs nicely with the complexity of their house cocktails–we recommend the Afternoon Sipper: Grey Goose vodka, St. Germain elderflower liqueur and grapefruit juice, topped with a splash of club soda.
Give us a call at 833-767-1745 for more information about all that our local area has to offer, including our Cape Fear cuisine or make an appointment online.