Pickleball is one of the most important outdoor activities for 55+ communities in Southeastern North Carolina. The sport was invented in 1965 on Bainbridge Island, Washington by three dads who were trying to keep their kids busy during the school break (the dad of all inventions), but it quickly spread across the continent.
But it wasn't long before this fun game spread across North America (and developed its own bespoke equipment). Nowadays, Pickleball has become a fixture at many of our Southeastern NC master-planned communities and here's 4 reasons why.
1. Ease of play
Pickleball is an easy sport to learn, which means you get to the fun part quickly (actually playing pickleball). Afterall, it was originally designed on the fly to entertain children (who have notoriously a short attention span both for instructions and waiting for instructions to be created).
Like a human-sized version of a ping-pong table, on the Pickleball court, players tap the ball back and forth with paddles until one side misses and the other gains a point. Since you can play Pickleball in doubles, hand-eye coordination is not actually necessary for at least half of your team.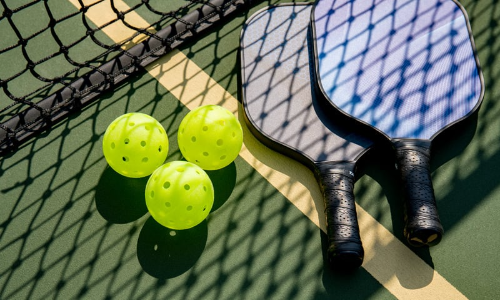 2. Keep active with low joint impact
Pickleball combines elements of tennis, badminton, and ping-pong (and a combo of the equipment as well — remember, this was invented by dads). With roots in multiple low-impact sports, Pickleball continues the tradition of being gentle on joints and muscles while still getting your workout in.
3. Enjoy the coastal weather
Pickleball can be played both indoors and outdoors, which makes sense if you live in Washington State. But with our amazing coastal weather (sorry, not sorry), here the best place to play Pickleball is outside. Taste the salt on the breeze, bask in that warm February sun, and get that Pickleball bouncing.
4. Make new friends
While you can play a quiet game Pickleball singles, doubles is definitely where the fun is at.
With award-winning Pickleball amenities at local master planned communities like Brunswick Forest, and across Southeastern NC, it's a perfect way to have fun with your neighbors and make new friends.
Brunswick Forest has its own Pickleball club with multiple organized games per week including multiple challenges, competitions, and round robins. They also send teams to participate in the Cape Fear Intercommunity League — which brings local Pickleball enthusiasts together for matches throughout the year. Additionally, there is an indoor Pickleball facility in the commercial Villages of Brunswick Forest, called House of Pickleball where the sport can be enjoyed rain or shine.
Give us a call 833-767-1745 to learn more about all the ways to live and play in Southeastern NC or make an appointment online.