Coastal Carolina is a haven for nature enthusiasts and outdoor adventurers. With its stunning coastline, diverse ecosystems, and charming coastal towns, it's no wonder that camping in this quaint region of North Carolina is a popular pastime. Read along as we explore three idyllic coastal camping spots in Coastal Carolina. Each of these destinations offers a unique camping experience that combines the beauty of the coast with the tranquility of the great outdoors.
Carolina Beach State Park
Carolina Beach State Park is a 761-acre park located in Kure Beach, North Carolina. It is a popular spot for fishing, hiking, camping, and more. The park has a marina with a fuel dock that provides access to some of North Carolina's best fishing spots. There are 8.5 miles of hiking trails in the park, including 2 that are wheelchair accessible. The park has campsites for tents and RVs, as well as cabins that sleep up to 6 people. Cabins are equipped with double beds, bunk beds, heating/air conditioning, electrical outlets, and more. They also have a visitor center with exhibits and videos about the park's natural and cultural history. Rangers lead regularly scheduled educational hikes and programs.
Here are some of the specific amenities that the family campgrounds at Carolina Beach State Park have:
· Restrooms with hot showers
· Drinking water stations
· Picnic tables
· Grills
· Fire rings
· Four camper cabins that can sleep up to six people each
Freeman Park
For a more rugged and off-the-grid camping experience, Freeman Park in Carolina Beach is the place to go. This undeveloped paradise offers beachfront camping with the ocean as your neighbor. Freeman Park is a secluded beachfront that allows four-wheel drive access with permits. It is a popular spot for fishing, swimming, surfing, and hunting for seashells at the park. Overnight camping is allowed with a permit, but please check availability and rules and regulations first on the online reservation website.
Brunswick Beaches RV Campground
Brunswick Beaches Campground is a family-friendly campground located in Sunset Beach, North Carolina. The campground offers a variety of campsites, including RV sites, cabins, and tent sites. Some other amenities include a pool, fishing pond, camp store, camp kitchen, and pet walk.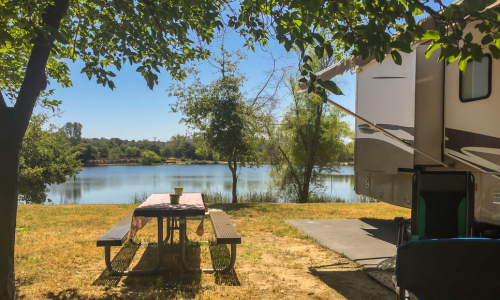 Here are some of the key features of Brunswick Beaches Campground:
· 84 full hookup RV sites
· 5 cabins
· 15 primitive tent sites
· Pool
· Fishing pond
· Camp store
· Camp kitchen
· Pet walk
· Pet-friendly
This campground is open year-round and is a great place to relax and enjoy the outdoors. Whether you are looking for a simple tent camping experience or the comforts of a cabin, Brunswick Beaches Campground has the perfect campsite for you!
Coastal Carolina offers a diverse range of camping experiences, from the untamed beauty of Freeman Park to the well-appointed Brunswick Beaches RV Campground and the natural wonderland of Carolina Beach State Park. Regardless of your camping style, you're sure to find a perfect spot in Coastal Carolina. So pack your bags and head to the beach for a fun-filled camping adventure!
Here are some additional tips for camping in Coastal Carolina:
· Book your campsite in advance, especially during peak season.
· Bring plenty of insect repellent, as mosquitoes can be an irritant.
· Be aware of the tides and currents, and never swim alone.
· Pack out all of your trash, and leave no trace behind.
With a little planning, you can have a safe and enjoyable camping trip in Coastal Carolina. What are you waiting for? Start planning your trip today!
Looking to make the coastal experience permanent? Coastal Community Real Estate Group can help you find your dream home! Call us today at 833.767.1745.