Ahoy, fellow adventurers! Come with us to embark on an exhilarating aquatic escapade and meander through coastal Carolina's liquid highways. North Carolina's coast is a kayaker's paradise, with miles of calm waterways, stunning scenery, and plenty of wildlife to see. Grab your paddle as we navigate the charming waterways and explore the three best kayaking spots in this coastal wonderland.
Eagle Island: Where Nature Spreads Its Wings!
Our first stop takes us to the majestic Eagle Island, a true paradise for nature enthusiasts and avid kayakers alike. Nestled in the confluence of the Cape Fear and Brunswick Rivers, this hidden gem is a great place to go kayaking if you're looking for peace and quiet. As you glide through the tranquil waters, keep an eye out for our majestic bald eagles, ospreys, and herons. Eagle Island is a great place to kayak if you're looking for a bird's-eye view!
Prepare to venture into the mysterious realm of the Black River and Three Sisters Swamp. Here, you'll find a vast, interconnected network of waterways that spans 70 miles through Sampson, Pender, and Bladen counties before emptying into the Cape Fear River near Wilmington. The swamp is home to a variety of wildlife, including fish, turtles, and birds. So, put on your exploring hat as you navigate through the twisted cypress trees and witness nature's enigmatic wonders. The Black River/Three Sisters Swamp is a 'tree-mendous' place to kayak; get ready to 'branch' out and discover the hidden treasures lurking beneath the surface!
Arr matey! We set sail towards Sharks Tooth Island, a place that will surely have you grinning from ear to ear…or fin to fin! Known for its abundance of fossilized shark teeth, this delightful island offers a unique kayaking experience combined with a thrilling treasure hunt. Paddle through the calm waters of the Cape Fear River, all while keeping your eyes peeled for these prehistoric gems hiding in the sand beneath you. A short drive from Wrightsville Beach or Carolina Beach, Sharks Tooth Island is a great place to go kayaking if you're looking for a fin-tastic adventure.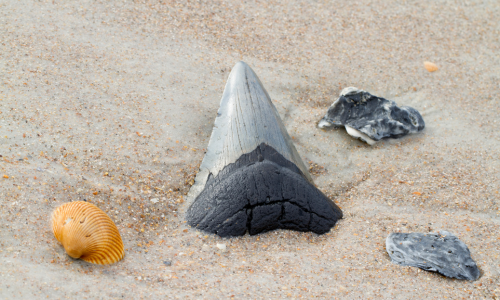 Paddle Your Way to Paradise
Coastal North Carolina truly spoils us kayakers with its breathtaking landscapes, diverse wildlife, and hidden treasures. Whether you're a seasoned paddler or a novice ready to dip your toes in the water, these three kayaking spots will leave you with memories to cherish and stories to share. So, grab your paddles, slap on some sunscreen, and set sail on the adventure of a lifetime. Coastal North Carolina is calling, and the kayaking magic awaits! Remember, paddle responsibly and leave only ripples behind as you explore these splendid locations. Happy kayaking! Contact Coastal Community Real Estate Group at 833-767-1745 to learn more about the coastal lifestyle or make an appointment online.